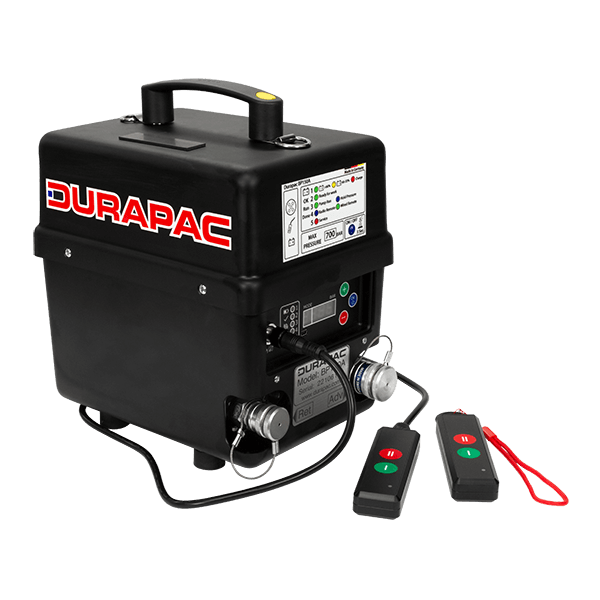 Bluetooth Wireless Control
Each unit is supplied with a Bluetooth, wireless remote control. A wired remote control is also included.
Internally fitted 50.4 VDC, 7,830 mAh lithium-ion battery provides power and efficiency.
On board digital display shows pump mode and pressure.
Electronic and mechanical pressure safety valves enhance safety. Pressure can be simply adjusted by the user.

110/230 Volt plug in external charger supplied with each unit.
Rugged and heavy duty plastic housing with carry handle. Hydraulic coupling/control buttons/plug connectors are well protected.
| | |
| --- | --- |
| Pump Type | Single-stage three-cylinder radial piston pump |
| Pump Outputs / Inputs | 2 / 2 |
| Oil Flow | 0.97 - 1.99 L / min. (nominal) |
| Max. Oil Volume (approx.) | 1,400 cc |
| Usable Oil Volume (approx.) | 1,000 cc |
| Maximum Pressure | 700 bar |
| Oil Type | Durapac Hydraulic Oil (DHO-10L) |
| Drive | DC motor 48 Volts (max. 58 V) |
| Motor Peak Power | 4,000 Watts |
| Battery Capacity | 7,830 mAh |
| Dimensions W x L x H (approx.) | 185 x 250 x 270 mm |
| Weight (approx.) | 9 kg |
| Power Supply Unit | primarily 230 V ~, secondary 24 V, 5 A |
| Max. Operating Conditions | -20 ° C to + 40 ° C |
| Environmental Conditions | 0 to 100% rel. humidity |
| Degree of Protection According to EN 60529 | IP23 |
| Operating Mode Intermittent Operation | 30% ED |