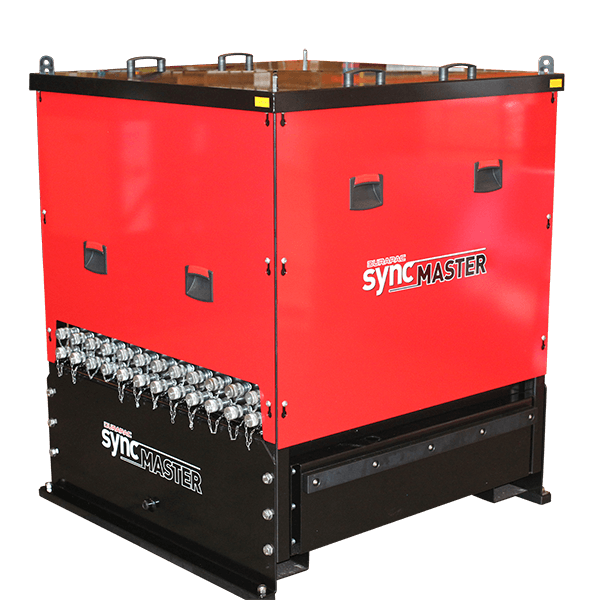 Lift Monitoring and Data Storage
Full pressure and displacement data presentation are available on screen to monitor the lift in real time. Lift data are stored and able to be downloaded in a format suitable for importing into Excel for further analysis and record keeping. This gives a permanent record of the displacement and load on every cylinder at defined time intervals.
Variable frequency drive motor gives a wider pump flow range. This is controlled by a joy stick controller that governs flow and directional control of the hydraulic cylinders.
High cycle, high speed solenoid valves allow precise flow control. All valves are leak free and have a 100% duty cycle.
Monitor load conditions at each lift point for maximum safety. Optional load cells are available for high precision weighing operations.
High precision 40 pulses per mm linear transducers combined with high speed counter cards achieve precise positional control. Various stroke transducers are available including internal cylinder design. Optional tilt meters are also available.
15 inch full colour touch screen withstands harsh environments. The glass is toughened making it both scratch and cut resistant.
| Model No. | Flow Rate | Pressure Rating | Motor Size | Amps | Hydraulic Outlets | Usable Oil Capacity | Weight (Dry) | Dimensions (mm) |
| --- | --- | --- | --- | --- | --- | --- | --- | --- |
| DSM4038 | 0.5-2.4 Lpm | 700 bar | 4.0 kW | 8.85 | 8 x A & B ports | 300 L | 600 kg | 1120 W x 1210 L x 1350 H |
Standard Inclusions
• Modular design can be configured with 4, 8, 12, 16 or 20 lifting points per block
• 16 blocks can be linked to achieve 320 individual lifting points
• Pressure transducers
• Analogue pressure gauge
• Adjustable pressure relief valves (Adv. & Ret)
• Oil temperature alarm
• Oil filter alarm
• Emergency stop
• 15" full colour touch screen
• Flow control valves

Optional Items
• Externally mounted stroke encoder
• Internally mounted stroke encoder
• Dual encoder inputs per lift point