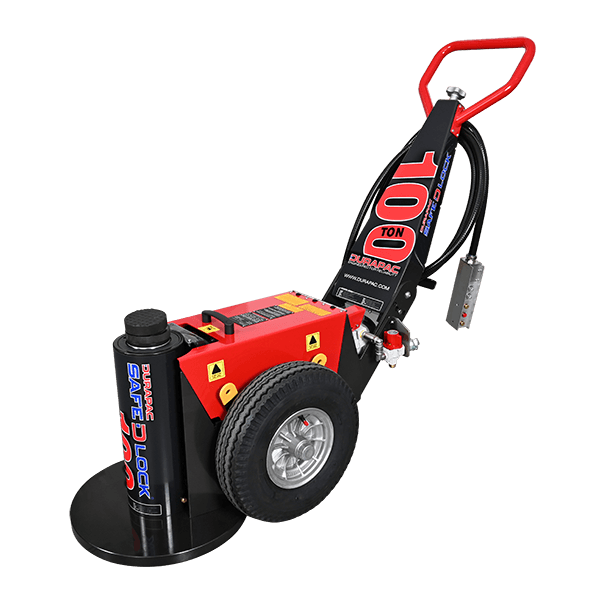 Australian Designed and Built
Australian designed and built to meet AS/NZS 2693:2007 standard for vehicle jacks, it also meets AS/NZS 2538:2004 standard for vehicle support stands.
The jack uses patented oil-bathed internal locking quadrants that are constantly energised during the lifting process to give a fail safe operation.
Mechanical Quadrant Locks
The locking mechanism automatically engages in the unlikely event of a hydraulic failure.
The Safe D Lock jack is compact and portable and is the perfect choice for the workshop or service vehicle.
SAFE D LOCK JACK + POWERDRIVE
Self-propels up workshop slopes of 5 degrees.
A counter balance valve allows for smooth, controlled lowering of the load.
| Model Number | Jack Capacity Metric (tonne) | Jack Capacity US (ton)* | Jack Capacity (kN) | Cylinder Effective Area (cm2) | Collapsed Height (mm)** | Stroke (mm) | Maximum Lift Height (mm)*** | Weight (kg) | Oil Tank Capacity (L) |
| --- | --- | --- | --- | --- | --- | --- | --- | --- | --- |
| SDL-07068 | 70 | 77 | 686 | 143 | 680 | 404 | 1,408 | 290 | 24 |
| SDL-07068-PD | 70 | 77 | 686 | 143 | 680 | 404 | 1,408 | 290 | 24 |
| SDL-07081 | 70 | 77 | 686 | 143 | 812 | 535 | 1,680 | 320 | 24 |
| SDL-07081-PD | 70 | 77 | 686 | 143 | 812 | 535 | 1,680 | 320 | 24 |
| SDL-10055 | 100 | 110 | 980 | 143 | 550 | 274 | 1,250 | 270 | 24 |
| SDL-10068 | 100 | 110 | 980 | 143 | 680 | 404 | 1,408 | 290 | 24 |
| SDL-10068-PD | 100 | 110 | 980 | 143 | 680 | 404 | 1,408 | 290 | 24 |
| SDL-10081 | 100 | 110 | 980 | 143 | 812 | 535 | 1,680 | 320 | 24 |
| SDL-10081-PD | 100 | 110 | 980 | 143 | 812 | 535 | 1,680 | 320 | 24 |
| SDL-15068 | 135 | 150 | 1,324 | 254 | 680 | 400 | 1,408 | 420 | 24 |
| SDL-15068-PD | 135 | 150 | 1,324 | 254 | 680 | 400 | 1,408 | 420 | 24 |
| SDL-15096 | 135 | 150 | 1,324 | 254 | 960 | 685 | 1,680 | 460 | 24 |
| SDL-15096-PD | 135 | 150 | 1,324 | 254 | 960 | 685 | 1,680 | 460 | 24 |
| SDL-20068 | 181 | 200 | 1,781 | 254 | 680 | 400 | 1,408 | 420 | 24 |
| SDL-20068-PD | 181 | 200 | 1,781 | 254 | 680 | 400 | 1,408 | 420 | 24 |
| SDL-20096 | 181 | 200 | 1,781 | 254 | 960 | 685 | 1,680 | 460 | 24 |
| SDL-20096-PD | 181 | 200 | 1,781 | 254 | 960 | 685 | 1,680 | 460 | 24 |
| SDL-20096-PD-620 | 181 | 200 | 1,781 | 254 | 960 | 685 | 2,100 | 620 | 24 |
* Nominal Cylinder Capacity in ton - see kN values for actual capacity
** Includes load cap height of 22 mm
*** Maximum lift height for AS/NZS 2538:2004 Vehicle Support Stand Rating
"-PD" suffix indicates {SafeDLock Jack + POWERDRIVE}
SDL Extensions & Load Caps
| Model Number | Capacity (Tons) | Description | Height (mm) | Diameter (mm) | Total Length (mm) | Spigot Depth (mm) | Spigot Diameter (mm) | Weight (kg) |
| --- | --- | --- | --- | --- | --- | --- | --- | --- |
| SDE100-150 | 70/100 | 150 mm Extension ** | 150 | 112 | 210 | 60 | 50 | 7 |
| SDE100-300 | 70/100 | 300 mm Extension ** | 300 | 112 | 360 | 60 | 50 | 13 |
| SDLC-100 | 70/100 | Serrated Steel Load Cap * | 22 | 112 | 82 | 60 | 50 | 3 |
| SDS-100 | 70/100 | Serrated Tilt Saddle ** | 50 | 112 | 110 | 60 | 50 | 5 |
| SDE150-150 | 150 | 150 mm Extension ** | 150 | 126 | 210 | 60 | 50 | 7 |
| SDE150-300 | 150 | 300 mm Extension ** | 300 | 126 | 360 | 60 | 50 | 13 |
| SDLC-150 | 150 | Serrated Steel Load Cap * | 22 | 126 | 82 | 60 | 50 | 3 |
| SDS-150/200N | 150 | Serrated Tilt Saddle ** | 54 | 126 | 114 | 60 | 50 | 5 |
| SDE200-150 | 200 | 150mm Extension ** | 150 | 140 | 210 | 60 | 50 | 8 |
| SDE200-300 | 200 | 300 mm Extension ** | 300 | 140 | 360 | 60 | 50 | 15 |
| SDLC-200 | 200 | Serrated Steel Load Cap* | 22 | 126 | 82 | 60 | 50 | 4 |
| SDS-200 | 200 | Serrated Tilt Saddle** | 50 | 126 | 110 | 60 | 50 | 6 |
* Supplied as standard
** Optional item