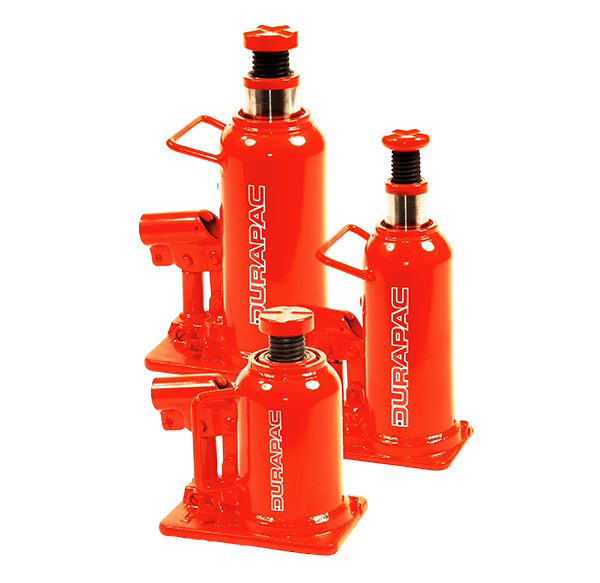 10 and 20 ton models (except DBJ-20A) can be operated horizontally. Hydraulic stroke will be reduced to approximately 2/3.
A carbon steel base is welded to ensure increased resistance to high pressure and provide greater durability.
All jacks have been designed for ease of
use and handling.
The internal stroke limiter prevents piston rod over-extension.
The chrome plated steel piston rod resists-corrosion and extends jack life.
An operating handle is included with all models.
| Model Number | Operation | Capacity (ton) | Stroke (mm) | Collapsed Height (mm) | Extended Height (mm) | Piston Rod Diameter (mm) | Base Dimensions L x W (mm) | Screw Extension & Saddle Set Auxiliary Height (mm) | Air Pressure Range (kgf/cm2) | Weight (kg) | Model Number |
| --- | --- | --- | --- | --- | --- | --- | --- | --- | --- | --- | --- |
| DBJ-10 | Manual | 10 | 147 | 240 | 387 | 42 | 105 x 166 | 85 | - | 8.2 | DBJ-10 |
| DBJ-10S | Manual | 10 | 95 | 170 | 265 | 42 | 105 x 166 | 55 | - | 6.4 | DBJ-10S |
| DBJ-20 | Manual | 20 | 152 | 265 | 417 | 55 | 128 x 181 | 85 | - | 13.3 | DBJ-20 |
| DBJ-20S | Manual | 20 | 85 | 187 | 272 | 55 | 128 x 181 | 55 | - | 10.0 | DBJ-20S |
| DBJ-20A | Air/Manual | 20 | 150 | 235 | 385 | 50 | 128 x 238 | 16, 45, 80 | 8-12 | 14.5 | DBJ-20A |
| DBJ-30 | Manual | 30 | 155 | 282 | 437 | 62 | 142 x 197 | - | - | 19.6 | DBJ-30 |
| DBJ-30S | Manual | 30 | 80 | 182 | 262 | 62 | 142 x 197 | - | - | 13.8 | DBJ-30S |
| DBJ-50 | Manual | 50 | 155 | 305 | 460 | 85 | 200 x 260 | - | - | 42.3 | DBJ-50 |