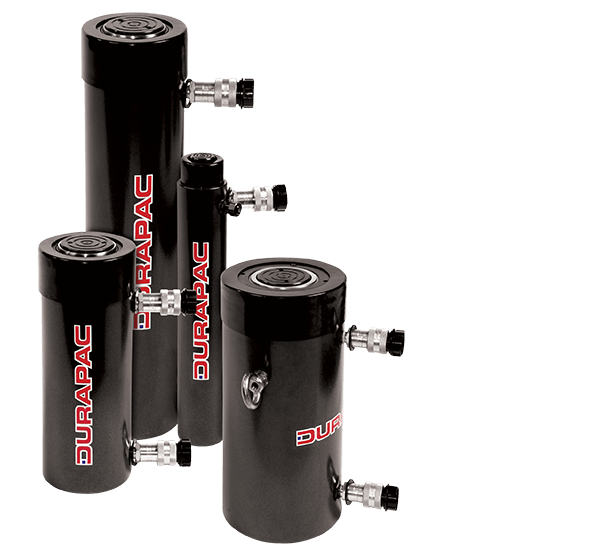 Flexible Mounting Options
Cylinder body mounting threads and base mounting holes on most models allow greater mounting flexibility.
All cylinders have a hard chrome piston rod, bronze overlay on the piston bearing area and retract side safety pressure relief valves to ensure long term, trouble-free performance.
The gland nut with low friction coating withstands full dead end loading.
The safety pressure relief valve protects the cylinder.
The grooved saddle is hardened to prevent piston rod damage.
Optional Tilt Saddles are available on all models.
| Model Number | Cylinder Capacity ton* | Cylinder Capacity Advance kN | Cylinder Capacity Retract kN | Stroke (mm) | Cylinder Effective Area Advance (cm2) | Cylinder Effective Area Retract (cm2) | Oil Capacity Advance (cm3) | Oil Capacity Retract (cm3) | Collapsed Height (mm) | Extended Height (mm) | Outside Diameter (mm) | Cylinder Bore Diameter (mm) | Piston Rod Diameter (mm) | Base to Advance Port (mm) | Top to Return Port (mm) | Standard Saddle Diameter (mm) | Saddle Protrusion from Piston Rod (mm) | Piston Rod Internal Thread | Piston Rod Thread Length (mm) | Base Mounting Holes Bolt Circle Diameter (mm) | Base Mounting Holes Thread (UNC) | Base Mounting Holes Thread Depth (mm) | Collar Thread (UN) | Collar Thread Length (mm) | Weight (kg) | Optional Tilt Saddle Model Number | Handle Type |
| --- | --- | --- | --- | --- | --- | --- | --- | --- | --- | --- | --- | --- | --- | --- | --- | --- | --- | --- | --- | --- | --- | --- | --- | --- | --- | --- | --- |
| RD-1010 | 10 | 101 | 33 | 254 | 14.5 | 4.8 | 367 | 124 | 409 | 663 | 73 | 42.9 | 34.9 | 36 | 57 | 35 | 6 | 1"-8UNC | 25 | - | - | - | 2-1/4"-14 | 26 | 12 | TSX-10 | - |
| RD-1012 | 10 | 101 | 33 | 305 | 14.5 | 4.8 | 441 | 149 | 457 | 762 | 73 | 42.9 | 34.9 | 36 | 57 | 35 | 6 | 1"-8UNC | 25 | - | - | - | 2-1/4"-14 | 26 | 14 | TSX-10 | - |
| RD-308 | 30 | 295 | 133 | 209 | 42.1 | 19.1 | 879 | 399 | 387 | 596 | 101 | 73.2 | 54.1 | 57 | 81 | 50 | 10 | 1-1/2"-16UN | 25 | - | - | - | 3-5/16"-12 | 49 | 18 | TSX-50 | - |
| RD-3014 | 30 | 295 | 133 | 368 | 42.1 | 19.1 | 1,548 | 702 | 549 | 917 | 101 | 73.2 | 54.1 | 57 | 81 | 50 | 10 | 1-1/2"-16UN | 25 | - | - | - | 3-5/16"-12 | 49 | 29 | TSX-50 | - |
| RD-506 | 50 | 498 | 150 | 156 | 71.2 | 21.5 | 1,110 | 338 | 332 | 487 | 127 | 95.2 | 79.5 | 28 | 76 | 71 | 2 | 1"-12UNF | 25 | - | - | - | 5"-12 | 50 | 30 | TSX-100 | ♥ |
| RD-5013 | 50 | 498 | 150 | 334 | 71.2 | 21.5 | 2,376 | 719 | 509 | 843 | 127 | 95.2 | 79.5 | 28 | 76 | 71 | 2 | 1"-12UNF | 25 | - | - | - | 5"-12 | 50 | 52 | TSX-100 | ♥ |
| RD-5020 | 50 | 498 | 150 | 511 | 71.2 | 21.5 | 3,636 | 1,100 | 733 | 1,244 | 127 | 95.2 | 79.5 | 57 | 76 | 71 | 2 | 1"-12UNF | 25 | 76 | 1/2"-13 | 25 | 5"-12 | 50 | 68 | TSX-100 | ♥ |
| RD-756 | 75 | 718 | 220 | 156 | 102.6 | 31.4 | 1,600 | 490 | 347 | 503 | 146 | 114.3 | 95.2 | 30 | 76 | 71 | 6 | 1"-12UNF | 38 | - | - | - | 5-3/4"-12 | 38 | 41 | TSX-100 | ♥ |
| RD-7513 | 75 | 718 | 220 | 333 | 102.6 | 31.4 | 3,415 | 1,046 | 525 | 858 | 146 | 114.3 | 95.2 | 30 | 81 | 71 | 6 | 1"-12UNF | 38 | - | - | - | 5-3/4"-12 | 38 | 68 | TSX-100 | ♥ |
| RD-1006 | 100 | 933 | 435 | 168 | 133.3 | 62.2 | 2,239 | 1,044 | 357 | 525 | 177 | 130.3 | 95.2 | 38 | 71 | 76 | 3 | 1-3/4"-12UN | 35 | 139 | 3/4"-10 | 25 | 6-7/8"-12 | 50 | 61 | CONTACT DURAPAC | ♦ |
| RD-10013 | 100 | 933 | 435 | 333 | 133.3 | 62.2 | 4,438 | 2,069 | 524 | 857 | 177 | 130.3 | 95.2 | 38 | 71 | 76 | 3 | 1-3/4"-12UN | 35 | 139 | 3/4"-10 | 25 | 6-7/8"-12 | 50 | 93 | CONTACT DURAPAC | ♦ |
| RD-10018 | 100 | 933 | 435 | 460 | 133.3 | 62.2 | 6,131 | 2,858 | 687 | 1,147 | 177 | 130.3 | 95.2 | 41 | 92 | 76 | 3 | 1-3/4"-12UN | 35 | 139 | 3/4"-10 | 25 | 6-7/8"-12 | 50 | 117 | CONTACT DURAPAC | ♦ |
| RD-1502 | 150 | 1,386 | 668 | 57 | 198.1 | 95.4 | 1,128 | 544 | 183 | 240 | 203 | 158.8 | 114.3 | 22 | 66 | 93 | 19 | - | - | - | - | - | - | - | 49 | CONTACT DURAPAC | ♦ |
| RD-1506 | 150 | 1,386 | 668 | 156 | 198.1 | 95.4 | 3,088 | 1,488 | 385 | 541 | 203 | 158.8 | 114.3 | 49 | 84 | 114 | 19 | 3-3/8"-16 | 35 | 158 | 3/4"-16UNF | 28 | 8"-12 | 55 | 93 | CONTACT DURAPAC | ♦ |
| RD-15013 | 150 | 1,386 | 668 | 333 | 198.1 | 95.4 | 6,592 | 3,177 | 563 | 897 | 203 | 158.8 | 114.3 | 49 | 84 | 114 | 19 | 3-3/8"-16 | 35 | 158 | 3/4"-16UNF | 28 | 8"-12 | 55 | 124 | CONTACT DURAPAC | ♦ |
| RD-15032 | 150 | 1,386 | 668 | 815 | 198.1 | 95.4 | 16,133 | 7,775 | 1,116 | 1,931 | 203 | 158.8 | 114.3 | 76 | 88 | 114 | 19 | 3-3/8"-16 | 35 | - | - | - | 8"-12 | 55 | 238 | CONTACT DURAPAC | ♦ |
| RD-2006 | 200 | 1,995 | 1,017 | 152 | 285.0 | 145.3 | 4,330 | 2,207 | 430 | 582 | 247 | 190.5 | 133.4 | 57 | 96 | 133 | 22 | - | - | 127 | 1"-8UNC | 25 | - | - | 147 | CONTACT DURAPAC | ♦ |
| RD-20013 | 200 | 1,995 | 1,017 | 330 | 285.0 | 145.3 | 9,401 | 4,791 | 608 | 938 | 247 | 190.5 | 133.4 | 57 | 96 | 133 | 22 | 2-1/2"-12 | 63 | 127 | 1"-8UNC | 25 | 9-3/4"-12 | 54 | 199 | CONTACT DURAPAC | ♦ |
| RD-20018 | 200 | 1,995 | 1,017 | 457 | 285.0 | 145.3 | 13,019 | 6,635 | 765 | 1,222 | 247 | 190.5 | 133.4 | 85 | 101 | 133 | 22 | 2-1/2"-12 | 63 | 127 | 1"-8UNC | 25 | 9-3/4"-12 | 54 | 204 | CONTACT DURAPAC | ♦ |
| RD-20024 | 200 | 1,995 | 1,017 | 610 | 285.0 | 145.3 | 17,378 | 8,856 | 917 | 1,527 | 247 | 190.5 | 133.4 | 85 | 101 | 133 | 22 | 2-1/2"-12 | 63 | 127 | 1"-8UNC | 25 | 9-3/4"-12 | 54 | 279 | CONTACT DURAPAC | ♦ |
| RD-20036 | 200 | 1,995 | 1,017 | 914 | 285.0 | 145.3 | 26,049 | 13,270 | 1,222 | 2,136 | 247 | 190.5 | 133.4 | 85 | 101 | 133 | 22 | 2-1/2"-12 | 63 | 127 | 1"-8UNC | 25 | 9-3/4"-12 | 54 | 383 | CONTACT DURAPAC | ♦ |
| RD-20048 | 200 | 1,995 | 1,017 | 1,219 | 285.0 | 145.3 | 34,741 | 17,698 | 1,527 | 2,746 | 247 | 190.5 | 133.4 | 85 | 101 | 133 | 22 | 2-1/2"-12 | 63 | 127 | 1"-8UNC | 25 | 9-3/4"-12 | 54 | 483 | CONTACT DURAPAC | ♦ |
| RD-3006 | 300 | 3,201 | 1,703 | 153 | 457.3 | 243.2 | 6,993 | 3,719 | 485 | 638 | 311 | 241.3 | 165.1 | 88 | 114 | 165 | 28 | 2-1/2"-12 | 82 | 158 | 1-1/4"-7UNC | 44 | 12-1/4"-12 | 58 | 200 | CONTACT DURAPAC | ♦ |
| RD-30012 | 300 | 3,201 | 1,703 | 305 | 457.3 | 243.2 | 13,941 | 7,414 | 638 | 943 | 311 | 241.3 | 165.1 | 88 | 114 | 165 | 28 | 2-1/2"-12 | 82 | 158 | 1-1/4"-7UNC | 44 | 12-1/4"-12 | 58 | 312 | CONTACT DURAPAC | ♦ |
| RD-30018 | 300 | 3,201 | 1,703 | 457 | 457.3 | 243.2 | 20,888 | 11,110 | 790 | 1,247 | 311 | 241.3 | 165.1 | 88 | 114 | 165 | 28 | 2-1/2"-12 | 82 | 158 | 1-1/4"-7UNC | 44 | 12-1/4"-12 | 58 | 385 | CONTACT DURAPAC | ♦ |
| RD-30024 | 300 | 3,201 | 1,703 | 609 | 457.3 | 243.2 | 27,849 | 14,805 | 943 | 1,552 | 311 | 241.3 | 165.1 | 88 | 114 | 165 | 28 | 2-1/2"-12 | 82 | 158 | 1-1/4"-7UNC | 44 | 12-1/4"-12 | 58 | 469 | CONTACT DURAPAC | ♦ |
| RD-30036 | 300 | 3,201 | 1,703 | 915 | 457.3 | 243.2 | 41,842 | 22,243 | 1,247 | 2,162 | 311 | 241.3 | 165.1 | 88 | 114 | 165 | 28 | 2-1/2"-12 | 82 | 158 | 1-1/4"-7UNC | 44 | 12-1/4"-12 | 58 | 628 | CONTACT DURAPAC | ♦ |
| RD-30048 | 300 | 3,201 | 1,703 | 1,219 | 457.3 | 243.2 | 55,744 | 29,633 | 1,552 | 2,771 | 311 | 241.3 | 165.1 | 88 | 114 | 165 | 28 | 2-1/2"-12 | 82 | 158 | 1-1/4"-7UNC | 44 | 12-1/4"-12 | 58 | 780 | CONTACT DURAPAC | ♦ |
| RD-4006 | 400 | 4,292 | 2,297 | 152 | 613.1 | 328.1 | 9,315 | 4,984 | 538 | 690 | 358 | 279.4 | 190.5 | 108 | 133 | 190 | 28 | 3"-12 | 95 | 203 | 1-1/2"-6UNC | 50 | 14-1/8"-8 | 65 | 303 | CONTACT DURAPAC | ♦ |
| RD-40012 | 400 | 4,292 | 2,297 | 305 | 613.1 | 328.1 | 18,691 | 10,002 | 690 | 995 | 358 | 279.4 | 190.5 | 108 | 133 | 190 | 28 | 3"-12 | 95 | 203 | 1-1/2"-6UNC | 50 | 14-1/8"-8 | 65 | 399 | CONTACT DURAPAC | ♦ |
| RD-40018 | 400 | 4,292 | 2,297 | 457 | 613.1 | 328.1 | 28,018 | 14,986 | 843 | 1,300 | 358 | 279.4 | 190.5 | 108 | 133 | 190 | 28 | 3"-12 | 95 | 203 | 1-1/2"-6UNC | 50 | 14-1/8"-8 | 65 | 453 | CONTACT DURAPAC | ♦ |
| RD-40024 | 400 | 4,292 | 2,297 | 610 | 613.1 | 328.1 | 37,399 | 20,004 | 995 | 1,605 | 358 | 279.4 | 190.5 | 108 | 133 | 190 | 28 | 3"-12 | 95 | 203 | 1-1/2"-6UNC | 50 | 14-1/8"-8 | 65 | 597 | CONTACT DURAPAC | ♦ |
| RD-40036 | 400 | 4,292 | 2,297 | 914 | 613.1 | 328.1 | 56,037 | 29,973 | 1,300 | 2,214 | 358 | 279.4 | 190.5 | 108 | 133 | 190 | 28 | 3"-12 | 95 | 203 | 1-1/2"-6UNC | 50 | 14-1/8"-8 | 65 | 792 | CONTACT DURAPAC | ♦ |
| RD-40048 | 400 | 4,292 | 2,297 | 1,219 | 613.1 | 328.1 | 74,736 | 39,974 | 1,605 | 2,824 | 358 | 279.4 | 190.5 | 108 | 133 | 190 | 28 | 3"-12 | 95 | 203 | 1-1/2"-6UNC | 50 | 14-1/8"-8 | 65 | 980 | CONTACT DURAPAC | ♦ |
| RD-5006 | 500 | 5,108 | 2,838 | 152 | 729.7 | 405.4 | 11,091 | 6,175 | 578 | 730 | 397 | 304.8 | 203.2 | 120 | 152 | 203 | 28 | 3-1/4"-12 | 108 | 203 | 1-3/4"-5UNC | 54 | 15-5/8"-8 | 79 | 432 | CONTACT DURAPAC | ♦ |
| RD-50012 | 500 | 5,108 | 2,838 | 305 | 729.7 | 405.4 | 22,255 | 12,357 | 730 | 1,035 | 397 | 304.8 | 203.2 | 120 | 152 | 203 | 28 | 3-1/4"-12 | 108 | 203 | 1-3/4"-5UNC | 57 | 15-5/8"-8 | 79 | 589 | CONTACT DURAPAC | ♦ |
| RD-50018 | 500 | 5,108 | 2,838 | 457 | 729.7 | 405.4 | 33,347 | 18,516 | 882 | 1,339 | 397 | 304.8 | 203.2 | 120 | 152 | 203 | 28 | 3-1/4"-12 | 108 | 203 | 1-3/4"-5UNC | 57 | 15-5/8"-8 | 79 | 680 | CONTACT DURAPAC | ♦ |
| RD-50024 | 500 | 5,108 | 2,838 | 609 | 729.7 | 405.4 | 44,438 | 24,674 | 1,035 | 1,644 | 397 | 304.8 | 203.2 | 120 | 152 | 203 | 28 | 3-1/4"-12 | 108 | 203 | 1-3/4"-5UNC | 57 | 15-5/8"-8 | 79 | 816 | CONTACT DURAPAC | ♦ |
| RD-50036 | 500 | 5,108 | 2,838 | 915 | 729.7 | 405.4 | 66,767 | 37,072 | 1,339 | 2,254 | 397 | 304.8 | 203.2 | 120 | 152 | 203 | 28 | 3-1/4"-12 | 108 | 203 | 1-3/4"-5UNC | 57 | 15-5/8"-8 | 79 | 1,002 | CONTACT DURAPAC | ♦ |
| RD-50048 | 500 | 5,108 | 2,838 | 1,219 | 729.7 | 405.4 | 88,950 | 49,389 | 1,644 | 2,863 | 397 | 304.8 | 203.2 | 120 | 152 | 203 | 28 | 3-1/4"-12 | 108 | 203 | 1-3/4"-5UNC | 57 | 15-5/8"-8 | 79 | 1,224 | CONTACT DURAPAC | ♦ |
* Nominal Cylinder Capacity in ton - see kN values for actual capacity
HANDLE TYPES: ♣ WELDED ♦ EYEBOLT ♥ REMOVABLE STRAP HANDLE ♠ THREAD
RD-Series Seal Kits
| Seal Kit to Suit | Part Number |
| --- | --- |
| RD 10 TON SERIES | ZAM1005 |
| RD 30 TON SERIES | ZAM1009 |
| RD 50 TON SERIES | ZAM1012 |
| RD 75 TON SERIES | ZAM1014 |
| RD 100 TON SERIES | ZAM1006 |
| RD 150 TON SERIES (except RD-1502) | ZAM1007 |
| RD-1502 | ZAM1102 |
| RD-2006 | ZAM1102 |
| RD-20013 | ZAM1008 |
| RD-20018 | ZAM1098 |
| RD-20024 | ZAM1099 |
| RD-20036 | ZAM1100 |
| RD-20048 | ZAM1101 |
| RD-3006 | ZAM1107 |
| RD-30012 | ZAM1010 |
| RD-30018 | ZAM1103 |
| RD-30024 | ZAM1104 |
| RD-30036 | ZAM1105 |
| RD-30048 | ZAM1106 |
| RD 400 TON SERIES | ZAM1011 |
| RD 500 TON SERIES (except RD-5006) | ZAM1013 |
| RD-5006 | ZAM1108 |