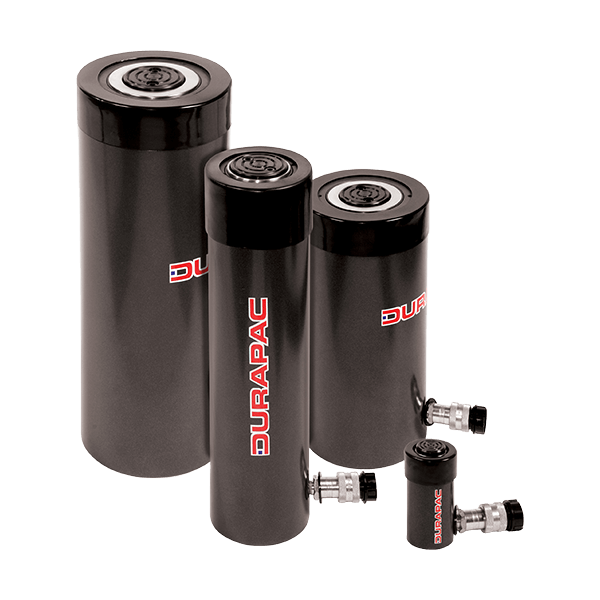 Prevents piston rod damage. Optional tilt saddles available.
Cylinder Body Mounting Threads
Piston rod threads and base mounting holes permit easy fixture.
Sized to ensure efficient piston rod return and maximum spring life.
Hard Chrome Plated Piston Rod
Maximum corrosion-resistance and cylinder life.
Enhances appearance and reduces corrosion.
Bronze overlay on piston bearing area reduces side load.
| Model Number | Cylinder Capacity ton* | Cylinder Capacity kN | Stroke (mm) | Cylinder Effective Area (cm2) | Oil Capacity (cm3) | Collapsed Height (mm) | Extended Height (mm) | Outside Diameter (mm) | Cylinder Bore Diameter (mm) | Piston Rod Diameter (mm) | Base to Advance Port (mm) | Standard Saddle Diameter (mm) | Saddle Protrusion from Piston Rod (mm) | Piston Rod Internal Thread | Piston Rod Thread Length (mm) | Collar Thread | Collar Thread Length (mm) | Weight (kg) | Optional Tilt Saddle Model Number | Model Number | Handle Type |
| --- | --- | --- | --- | --- | --- | --- | --- | --- | --- | --- | --- | --- | --- | --- | --- | --- | --- | --- | --- | --- | --- |
| RG-50 | 5 | 45 | 16 | 6.5 | 10 | 41 | 57 | 58 | 28.7 | 25.4 | 19 | ** | ** | ** | ** | - | - | 1.0 | - | RG-50 | - |
| RG-51 | 5 | 45 | 25 | 6.5 | 16 | 110 | 135 | 38 | 28.7 | 25.4 | 19 | 25 | 6 | 3/4"-16UNF | 14 | 1-1/2"-16UN | 28 | 1.0 | - | RG-51 | - |
| RG-53 | 5 | 45 | 76 | 6.5 | 49 | 165 | 241 | 38 | 28.7 | 25.4 | 19 | 25 | 6 | 3/4"-16UNF | 14 | 1-1/2"-16UN | 28 | 1.5 | - | RG-53 | - |
| RG-55 | 5 | 45 | 127 | 6.5 | 82 | 215 | 342 | 38 | 28.7 | 25.4 | 19 | 25 | 6 | 3/4"-16UNF | 14 | 1-1/2"-16UN | 28 | 1.9 | - | RG-55 | - |
| RG-57 | 5 | 45 | 177 | 6.5 | 114 | 273 | 450 | 38 | 28.7 | 25.4 | 19 | 25 | 6 | 3/4"-16UNF | 16 | 1-1/2"-16UN | 28 | 2.4 | - | RG-57 | - |
| RG-59 | 5 | 45 | 232 | 6.5 | 150 | 323 | 555 | 38 | 28.7 | 25.4 | 19 | 25 | 6 | 3/4"-16UNF | 16 | 1-1/2"-16UN | 28 | 2.8 | - | RG-59 | - |
| RG-101 | 10 | 101 | 26 | 14.5 | 38 | 89 | 115 | 57 | 42.9 | 38.1 | 19 | - | - | #10-24UNC | 6 | 2-1/4"-14UN | 26 | 1.8 | - | RG-101 | - |
| RG-102 | 10 | 101 | 54 | 14.5 | 78 | 121 | 175 | 57 | 42.9 | 38.1 | 19 | 35 | 6 | 1"-8UNC | 19 | 2-1/4"-14UN | 26 | 2.3 | TSX-10 | RG-102 | - |
| RG-104 | 10 | 101 | 105 | 14.5 | 152 | 171 | 276 | 57 | 42.9 | 38.1 | 19 | 35 | 6 | 1"-8UNC | 19 | 2-1/4"-14UN | 26 | 3.3 | TSX-10 | RG-104 | - |
| RG-106 | 10 | 101 | 156 | 14.5 | 226 | 247 | 403 | 57 | 42.9 | 38.1 | 19 | 35 | 6 | 1"-8UNC | 19 | 2-1/4"-14UN | 26 | 4.4 | TSX-10 | RG-106 | - |
| RG-108 | 10 | 101 | 203 | 14.5 | 294 | 298 | 501 | 57 | 42.9 | 38.1 | 19 | 35 | 6 | 1"-8UNC | 19 | 2-1/4"-14UN | 26 | 5.4 | TSX-10 | RG-108 | - |
| RG-1010 | 10 | 101 | 257 | 14.5 | 372 | 349 | 606 | 57 | 42.9 | 38.1 | 19 | 35 | 6 | 1"-8UNC | 19 | 2-1/4"-14UN | 26 | 6.4 | TSX-10 | RG-1010 | - |
| RG-1012 | 10 | 101 | 304 | 14.5 | 440 | 400 | 704 | 57 | 42.9 | 38.1 | 19 | 35 | 6 | 1"-8UNC | 19 | 2-1/4"-14UN | 26 | 6.8 | TSX-10 | RG-1012 | - |
| RG-1014 | 10 | 101 | 356 | 14.5 | 515 | 450 | 806 | 57 | 42.9 | 38.1 | 19 | 35 | 6 | 1"-8UNC | 19 | 2-1/4"-14UN | 26 | 8.2 | TSX-10 | RG-1014 | - |
| RG-151 | 15 | 142 | 25 | 20.3 | 51 | 124 | 149 | 69 | 50.8 | 41.4 | 19 | 38 | 9 | 1"-8UNC | 25 | 2-3/4"-16UN | 30 | 3.3 | TSX-10 | RG-151 | - |
| RG-152 | 15 | 142 | 51 | 20.3 | 103 | 149 | 200 | 69 | 50.8 | 41.4 | 19 | 38 | 9 | 1"-8UNC | 25 | 2-3/4"-16UN | 30 | 4.1 | TSX-10 | RG-152 | - |
| RG-154 | 15 | 142 | 101 | 20.3 | 205 | 200 | 301 | 69 | 50.8 | 41.4 | 19 | 38 | 9 | 1"-8UNC | 25 | 2-3/4"-16UN | 30 | 5.0 | TSX-10 | RG-154 | - |
| RG-156 | 15 | 142 | 152 | 20.3 | 308 | 271 | 423 | 69 | 50.8 | 41.4 | 25 | 38 | 9 | 1"-8UNC | 25 | 2-3/4"-16UN | 30 | 6.8 | TSX-10 | RG-156 | - |
| RG-158 | 15 | 142 | 203 | 20.3 | 411 | 322 | 525 | 69 | 50.8 | 41.4 | 25 | 38 | 9 | 1"-8UNC | 25 | 2-3/4"-16UN | 30 | 8.2 | TSX-10 | RG-158 | - |
| RG-1510 | 15 | 142 | 254 | 20.3 | 515 | 373 | 627 | 69 | 50.8 | 41.4 | 25 | 38 | 9 | 1"-8UNC | 25 | 2-3/4"-16UN | 30 | 9.5 | TSX-10 | RG-1510 | - |
| RG-1512 | 15 | 142 | 305 | 20.3 | 618 | 423 | 728 | 69 | 50.8 | 41.4 | 25 | 38 | 9 | 1"-8UNC | 25 | 2-3/4"-16UN | 30 | 10.9 | TSX-10 | RG-1512 | - |
| RG-1514 | 15 | 142 | 356 | 20.3 | 721 | 474 | 830 | 69 | 50.8 | 41.4 | 25 | 38 | 9 | 1"-8UNC | 25 | 2-3/4"-16UN | 30 | 11.8 | TSX-10 | RG-1514 | - |
| RG-251 | 25 | 232 | 26 | 33.2 | 86 | 139 | 165 | 85 | 65.0 | 57.2 | 25 | 50 | 10 | 1-1/2"-16UN | 25 | 3-5/16"-12UN | 49 | 5.9 | TSX-50 | RG-251 | - |
| RG-252 | 25 | 232 | 50 | 33.2 | 166 | 165 | 215 | 85 | 65.0 | 57.2 | 25 | 50 | 10 | 1-1/2"-16UN | 25 | 3-5/16"-12UN | 49 | 6.4 | TSX-50 | RG-252 | - |
| RG-254 | 25 | 232 | 102 | 33.2 | 339 | 215 | 317 | 85 | 65.0 | 57.2 | 25 | 50 | 10 | 1-1/2"-16UN | 25 | 3-5/16"-12UN | 49 | 8.2 | TSX-50 | RG-254 | - |
| RG-256 | 25 | 232 | 158 | 33.2 | 524 | 273 | 431 | 85 | 65.0 | 57.2 | 25 | 50 | 10 | 1-1/2"-16UN | 25 | 3-5/16"-12UN | 49 | 10.0 | TSX-50 | RG-256 | - |
| RG-258 | 25 | 232 | 210 | 33.2 | 697 | 323 | 533 | 85 | 65.0 | 57.2 | 25 | 50 | 10 | 1-1/2"-16UN | 25 | 3-5/16"-12UN | 49 | 12.2 | TSX-50 | RG-258 | - |
| RG-2510 | 25 | 232 | 261 | 33.2 | 866 | 374 | 635 | 85 | 65.0 | 57.2 | 25 | 50 | 10 | 1-1/2"-16UN | 25 | 3-5/16"-12UN | 49 | 14.1 | TSX-50 | RG-2510 | - |
| RG-2512 | 25 | 232 | 311 | 33.2 | 1,032 | 425 | 736 | 85 | 65.0 | 57.2 | 25 | 50 | 10 | 1-1/2"-16UN | 25 | 3-5/16"-12UN | 49 | 16.3 | TSX-50 | RG-2512 | - |
| RG-2514 | 25 | 232 | 362 | 33.2 | 1,205 | 476 | 838 | 85 | 65.0 | 57.2 | 25 | 50 | 10 | 1-1/2"-16UN | 25 | 3-5/16"-12UN | 49 | 17.7 | TSX-50 | RG-2514 | - |
| RG-308 | 30 | 295 | 209 | 42.1 | 878 | 387 | 596 | 101 | 73.2 | 57.2 | 57 | 50 | 10 | 1-1/2"-16UN | 25 | 3-5/16"-12UN | 49 | 18.1 | TSX-50 | RG-308 | - |
| RG-502 | 50 | 498 | 51 | 71.2 | 363 | 176 | 227 | 127 | 95.3 | 79.5 | 33 | 71 | 2 | - | - | 5"-12UN | 55 | 15.0 | TSX-100 | RG-502 | - |
| RG-504 | 50 | 498 | 101 | 71.2 | 719 | 227 | 328 | 127 | 95.3 | 79.5 | 33 | 71 | 2 | - | - | 5"-12UN | 55 | 19.1 | TSX-100 | RG-504 | ♠ |
| RG-506 † | 50 | 498 | 159 | 71.2 | 1,132 | 282 | 441 | 127 | 95.3 | 79.5 | 35 | 71 | 2 | - | - | 5"-12UN | 55 | 23.1 | TSX-100 | RG-506 | ♣ |
| RG-5013 | 50 | 498 | 337 | 71.2 | 2,400 | 460 | 797 | 127 | 95.3 | 79.5 | 35 | 71 | 2 | - | - | 5"-12UN | 55 | 37.6 | TSX-100 | RG-5013 | ♦ |
| RG-756 | 75 | 718 | 156 | 102.6 | 1,600 | 285 | 441 | 146 | 114.3 | 95.3 | 30 | 71 | 5 | - | - | 5-3/4"-12UN | 44 | 29.5 | TSX-100 | RG-756 | ♦ |
| RG-7513 | 75 | 718 | 333 | 102.6 | 3,415 | 492 | 825 | 146 | 114.3 | 95.3 | 30 | 71 | 5 | - | - | 5-3/4"-12UN | 44 | 59.0 | TSX-100 | RG-7513 | ♦ |
| RG-1004 | 100 | 933 | 102 | 133.3 | 1,354 | 205 | 306 | 177 | 130.3 | 104.9 | 30 | 71 | 2 | - | - | 6-7/8"-12UN | 44 | 33.1 | TSX-100 | RG-1004 | ♣ |
| RG-1006 | 100 | 933 | 168 | 133.3 | 2,239 | 357 | 525 | 177 | 130.3 | 104.9 | 41 | 71 | 2 | - | - | 6-7/8"-12UN | 44 | 59.0 | TSX-100 | RG-1006 | ♦ |
| RG-1008 | 100 | 933 | 203 | 133.3 | 2,708 | 357 | 560 | 177 | 130.3 | 104.9 | 41 | 71 | 2 | - | - | 6-7/8"-12UN | 44 | 61.0 | TSX-100 | RG-1008 | ♦ |
| RG-10010 | 100 | 933 | 260 | 133.3 | 3,465 | 449 | 709 | 177 | 130.3 | 104.9 | 41 | 71 | 2 | - | - | 6-7/8"-12UN | 44 | 72.6 | TSX-100 | RG-10010 | ♦ |
* Nominal Cylinder Capacity in ton - see kN values for actual capacity
** RG-50 Cylinder has non-removable grooved saddle and no collar thread
† RG-506 cylinder will not fit into jacking base without welded handle being removed
HANDLE TYPES: ♣ WELDED ♦ EYEBOLT ♥ REMOVABLE STRAP HANDLE ♠ THREAD
RG-Series Seal Kits
| Seal Kit to Suit | Part Number |
| --- | --- |
| RG 5 TON SERIES (except RG-50 & RG-51) | ZAM1038 |
| RG-50 | ZAM1095 |
| RG-51 | ZAM1096 |
| RG 10 TON SERIES | ZAM1033 |
| RG 15 TON SERIES | ZAM1035 |
| RG 25 TON SERIES | ZAM1036 |
| RG 30 TON SERIES | ZAM1037 |
| RG 50 TON SERIES | ZAM1039 |
| RG 75 TON SERIES | ZAM1040 |
| RG 100 TON SERIES | ZAM1034 |