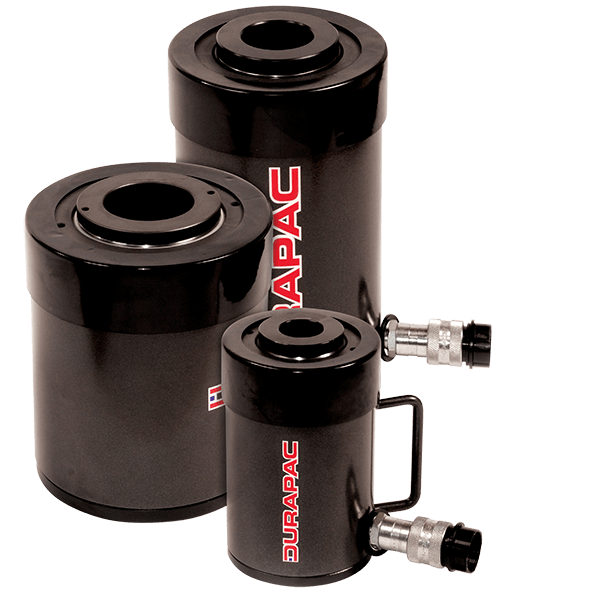 A hard chrome cylinder bore and piston rod maximises corrosion-resistance and cylinder life.
The piston bearing area is bronze overlaid to reduce scoring and increase service life.
All cylinders incorporate a bolt-on, removable steel base plate for extra protection.
Threaded Fit Smooth Saddle
A threaded fit smooth saddle prevents piston rod damage. Optional TSH
threaded saddles also available.
The return spring is sized to ensure efficient piston rod return and maximum spring life.
Low friction coating on the gland nut withstands full dead end loading.
| Model Number | Cylinder Capacity ton* | Cylinder Capacity kN | Stroke (mm) | Cylinder Effective Area (cm2) | Oil Capacity (cm3) | Collapsed Height (mm) | Extended Height (mm) | Outside Diameter (mm) | Cylinder Bore Diameter (mm) | Piston Rod Diameter (mm) | Base to Advance Port (mm) | Standard Saddle Diameter (mm) | Saddle Protrusion from Piston Rod (mm) | Piston Rod Internal Thread | Piston Rod Thread Length (mm) | Collar Thread | Collar Thread Length (mm) | Centre Hole Diameter (mm) | Base Mounting Holes Bolt Circle Diameter (mm) | Base Mounting Holes Thread | Base Mounting Holes Thread Depth (mm) | Weight (kg) | Optional Threaded Saddles Model Number | Model Number | Handle Type |
| --- | --- | --- | --- | --- | --- | --- | --- | --- | --- | --- | --- | --- | --- | --- | --- | --- | --- | --- | --- | --- | --- | --- | --- | --- | --- |
| RHS-120** | 12 | 125 | 8 | 17.9 | 14 | 55 | 63 | 69 | 54.1 | 35.1 | 9 | - | - | 3/4"-16UNF | 16 | 2-3/4"-16UN | 30 | 19.6 | 50.8 | 5/16"-18UNC | 9 | 2 | - | RHS-120 | - |
| RHS-121 | 12 | 125 | 42 | 17.9 | 75 | 120 | 162 | 69 | 54.1 | 35.1 | 19 | - | - | - | - | 2-3/4"-16UN | 30 | 19.6 | - | - | - | 2.8 | - | RHS-121 | - |
| RHS-1211 | 12 | 125 | 42 | 17.9 | 75 | 120 | 162 | 69 | 54.1 | 35.1 | 19 | - | - | 3/4"-16UNF | 16 | 2-3/4"-16UN | 30 | 19.6 | - | - | - | 2.8 | - | RHS-1211 | - |
| RHS-123 | 12 | 125 | 76 | 17.9 | 135 | 184 | 260 | 69 | 54.1 | 35.1 | 19 | - | - | - | - | 2-3/4"-16UN | 30 | 19.6 | 50.8 | 5/16"-18UNC | 12.7 | 4.4 | - | RHS-123 | - |
| RHS-202 | 20 | 215 | 49 | 30.7 | 149 | 162 | 211 | 98 | 73.1 | 54.1 | 19 | 54 | 6.9 | 1-9/16"-16UN | 19 | 3-7/8"-12UN | 38 | 26.9 | 82.6 | 3/8"-16UNC | 9.4 | 7.7 | TSH-20 | RHS-202 | ♣ |
| RHS-204 | 20 | 215 | 102 | 30.7 | 311 | 242 | 344 | 98 | 73.1 | 54.1 | 19 | 54 | 6.9 | 1-9/16"-17UN | 19 | 3-7/8"-13UN | 38 | 26.9 | 82.6 | 3/8"-16UNC | 9.4 | 10 | - | RHS-204 | ♣ |
| RHS-206 | 20 | 215 | 155 | 30.7 | 472 | 306 | 461 | 98 | 73.1 | 54.1 | 19 | 54 | 6.9 | 1-9/16"-16UN | 19 | 3-7/8"-12UN | 38 | 26.9 | 82.6 | 3/8"-16UNC | 9.4 | 14.1 | TSH-20 | RHS-206 | ♣ |
| RHS-302 | 30 | 326 | 64 | 46.6 | 297 | 178 | 242 | 114 | 88.9 | 63.5 | 22 | 63 | 9.7 | 1-13/16"-16UN | 22 | 4-1/2"-12UN | 42 | 33.3 | 92.2 | 3/8"-16UNC | 14 | 10.9 | TSH-30 | RHS-302 | ♣ |
| RHS-304 | 30 | 326 | 102 | 46.6 | 474 | 233 | 335 | 114 | 88.9 | 63.5 | 22 | 63 | 9.7 | 1-13/16"-17UN | 22 | 4-1/2"-13UN | 42 | 33.3 | 92.2 | 3/8"-16UNC | 14 | 14 | - | RHS-304 | ♣ |
| RHS-306 | 30 | 326 | 155 | 46.6 | 720 | 330 | 485 | 114 | 88.9 | 63.5 | 25 | 63 | 9.7 | 1-13/16"-18UN | 22 | 4-1/2"-12UN | 42 | 33.3 | 92.2 | 3/8"-16UNC | 14 | 21.8 | TSH-30 | RHS-306 | ♣ |
| RHS-603 | 60 | 576 | 76 | 82.3 | 629 | 247 | 323 | 159 | 123.9 | 91.9 | 31 | 91 | 12.7 | 2-3/4"-16UN | 19 | 6-1/4"-12UN | 48 | 53.8 | 130.3 | 1/2"-13UNC | 14 | 28.1 | TSH-60 | RHS-603 | ♥ |
| RHS-604 | 60 | 576 | 103 | 82.3 | 838 | 286 | 389 | 159 | 123.9 | 91.9 | 31 | 91 | 12.7 | 2-3/4"-16UN | 19 | 6-1/4"-12UN | 48 | 53.8 | 130.3 | 1/2"-13UNC | 14 | 30 | TSH-60 | RHS-604 | ♥ |
| RHS-606 | 60 | 576 | 153 | 82.3 | 1,266 | 323 | 476 | 159 | 123.9 | 91.9 | 31 | 91 | 12.7 | 2-3/4"-16UN | 19 | 6-1/4"-12UN | 48 | 53.8 | 130.3 | 1/2"-13UNC | 14 | 35.4 | TSH-60 | RHS-606 | ♥ |
| RHS-1003 | 100 | 931 | 76 | 133.0 | 1,011 | 254 | 330 | 212 | 165.1 | 127.0 | 38 | 126 | 12.7 | 4"-16UN | 25 | 8-3/8"-12 | 60 | 79.0 | 177.8 | 5/8"-11UNC | 19 | 63 | TSH-100 | RHS-1003 | ♥ |
| RHS-1006 | 100 | 931 | 152 | 133.0 | 2,026 | 373 | 525 | 212 | 165.1 | 127.0 | 54 | 126 | 12.7 | 4"-16UN | 25 | 8-3/8"-13 | 60 | 79.0 | 177.8 | 5/8"-11UNC | 19 | 73 | TSH-100 | RHS-1006 | ♥ |
* Nominal Cylinder Capacity in ton - see kN values for actual capacity
** Supplied with a whip hose and high flow coupling
HANDLE TYPES: ♣ WELDED ♦ EYEBOLT ♥ REMOVABLE STRAP HANDLE ♠ THREAD
RHS-Series Seal Kits
| Seal Kit to Suit | Part Number |
| --- | --- |
| RHS 12 TON SERIES (except RHS-120) | ZAM1046 |
| RHS-120 | ZAM1097 |
| RHS 20 TON SERIES | ZAM1047 |
| RHS 30 TON SERIES | ZAM1048 |
| RHS 60 TON SERIES | ZAM1049 |
| RHS 100 TON SERIES | ZAM1045 |