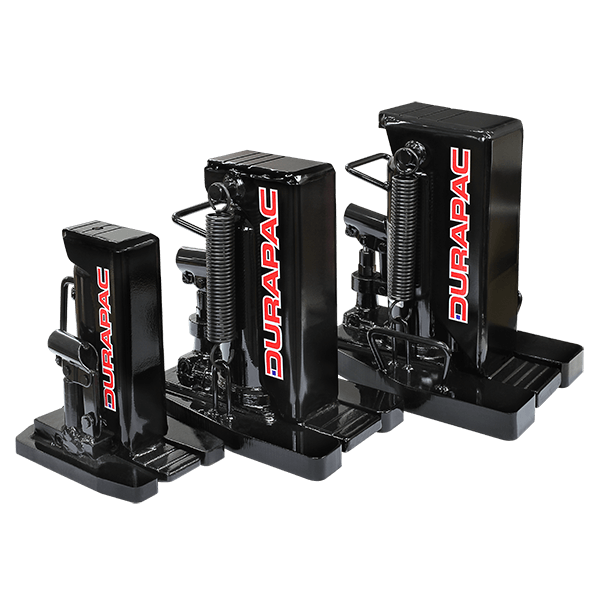 All jacks have been designed for ease of use and handling.
The carbon steel base is welded to ensure increased resistance to high pressure and provide greater durability.
The pump handle rotates 360° on models 2 -15 ton. An operating handle is included for all models.
The internal stroke limiter prevents piston rod over-extension.
The lifting toe is manufactured from high
strength alloy steel.
The chrome plated steel piston rod resists corrosion and extends jack life.
| Model No. | Jack Capacity ton* | Jack Capacity kN | Jack Width (mm) | Jack Depth (mm) | Toe Length (mm) | Toe Width (mm) | Collapsed Height (mm) | Min. Toe Height (mm) | Stroke (mm) | Weight (kg) |
| --- | --- | --- | --- | --- | --- | --- | --- | --- | --- | --- |
| TJ-2 | 2 | 19.9 | 145 | 185 | 45 | 50 | 235 | 14 | 118 | 9 |
| TJ-5 | 5 | 49.0 | 185 | 270 | 55 | 70 | 295 | 25 | 123 | 23 |
| TJ-10 | 10 | 98.0 | 230 | 295 | 60 | 80 | 330 | 30 | 141 | 32 |
| TJ-15 | 15 | 147.0 | 250 | 315 | 58 | 100 | 340 | 28 | 165 | 48 |
| TJ-25 | 25 | 245.1 | 280 | 345 | 65 | 145 | 382 | 38 | 129 | 80 |
* Nominal Jack Capacity in ton - see kN values for actual capacity